Have you ever encountered a "technology gap"?  If you work as a "do-it-yourself" entrepreneur, you may have experienced this situation:  You have content and tools, but do not understand how to join the two together.  Problem solved:  Introducing "Zippe Guide"- for the DIY Entrepreneur.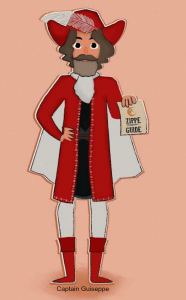 Here's a common technology gap example:  You have content and want to offer a PDF download.  But, your website is not ready, or you do not have one.   Want to learn quickly how to do this without a website?  If you answer, YES, there is a Zippe Guide available to help you.
Want to offer your download and build a mailing list simultaneously without a website?  There's a Zippe Guide that will walk you through the steps.   When you have direct information about one task you want to accomplish, you can accomplish it, without technical skills, in as little as 5 minutes.
Let Captain Guiseppe toss you a life line.  Go from content to product with easy to follow, step-by-step instructions that are guaranteed to to help you get the single job you want done, quickly and easily.
Zippe Guides -  For the DIY Entrepreneur
 No Website Required Series
Learn how to create and deliver PDF downloads without a website.  If you are developing a website and it is not yet ready for prime time, you can still offer PDF downloads and begin to build your mailing list.  Choose a Zippe Guide - for the DIY entrepreneur and get started today.