Use Landing Pages To Drive Prospects To Your Internet Business
If you are new to the world of digital marketing, it may seem like the learning curve is steep and there's too much to learn.  Think again.  There are literally millions of people earning money online and you can do it too.   An internet business is a great way to begin because you can get going quickly with minimal monetary investment.   All you need is a little time and the willingness to write.   Learn how landing pages drive prospects to online business.  You can begin to earn money online with a landing page with or without a website.   One of the best services to use to create a landing page is LeadPages.
What is a landing page?
A landing page is any web page you set up that's designed to:
a) Collect traffic (from one or several sources), and
b) Prompt visitors to take a specific action.
There are additional definitions for landing pages that describe other functions and uses.   For now, let's get started with an easy way to create an online presence.   You can direct traffic – from social media posts, paid advertising or elsewhere to any page you like.   If visitors are going to "land" on a page, that's a landing page.
Use a landing page to:
Offer a downloadable PDF or other products.
Promote registration for an event.  (webinar or seminar)
Provide launch/ pre-launch information. Let people know where they can sign up to receive updates, newsletters, your new book or product release.
Sales page promotion.  Show your audience the benefits of one of your programs, books, or membership service.  Landing pages must have a discernible CALL TO ACTION.   If you are going to drive visitors to a page, you've got to give them details and tell them what to do.   If your offer doesn't give people a strong reason to read and act on your page, then it probably won't convince them to stay long enough to become customers.
Here are some frequently asked digital-marketing questions.   These questions come from landing page users, social media responses and blog comments sections.

Is a landing page the same thing as a website? And do I need both?
The short answer is no, a landing page is not technically the same thing as a website.   However, a series of landing pages linked together with a navigation bar creates a "mini-website."  You can use both landing pages and a website together, or separately.  Whether both are required depends on your type of business and goals.
How can I create a landing page without a website?
If you use Leadpages to create landing pages, you can publish your landing pages to their servers without a website of your own.  The URL of your page will look like this: https://yourusername.leadpages.co/page-name/.   You save time and effort of building a website, finding someone to host your domain and maintain the site.  Additionally, analytical statistics are readily available for use in tracking the number of visitors and clicks to your product links on each page.
What type of business requires a main website?
Every business benefits from an online presence.  A main website in addition to your landing pages depends on your marketing strategy.  If you want to promote one-off events or products, a landing page may fit your needs.  All the information about your event or product displays easily on a single, vertical scrolling page for each product.  However, if your business depends on building long-term relationships with customers or establishing a strong brand, you will probably want to have a main website in addition to any landing pages you create.  If you do decide you need a main website, you can make things easy on yourself and actually build your entire website from one or several landing page templates.
Does LeadPages offer mini-site templates?
Yes.   Instead of using different pages, a mini-site organizes information in different content boxes, which you reach by vertical scrolling. This is a great format for mobile device visitors.   You can link your mini-site page to additional landing pages as needed.   Or your business model may make it possible for you to design your homepage around a single call to action, turning it into an effective landing page on its own.
For example, if you have a consulting firm, your entire homepage may be designed to get visitors to sign up for a free consultation.   For the majority of business owners, "website or landing page?" is a false dichotomy.   In most cases, you'll want some combination of both.
There are lots of landing-page templates. How can I choose one?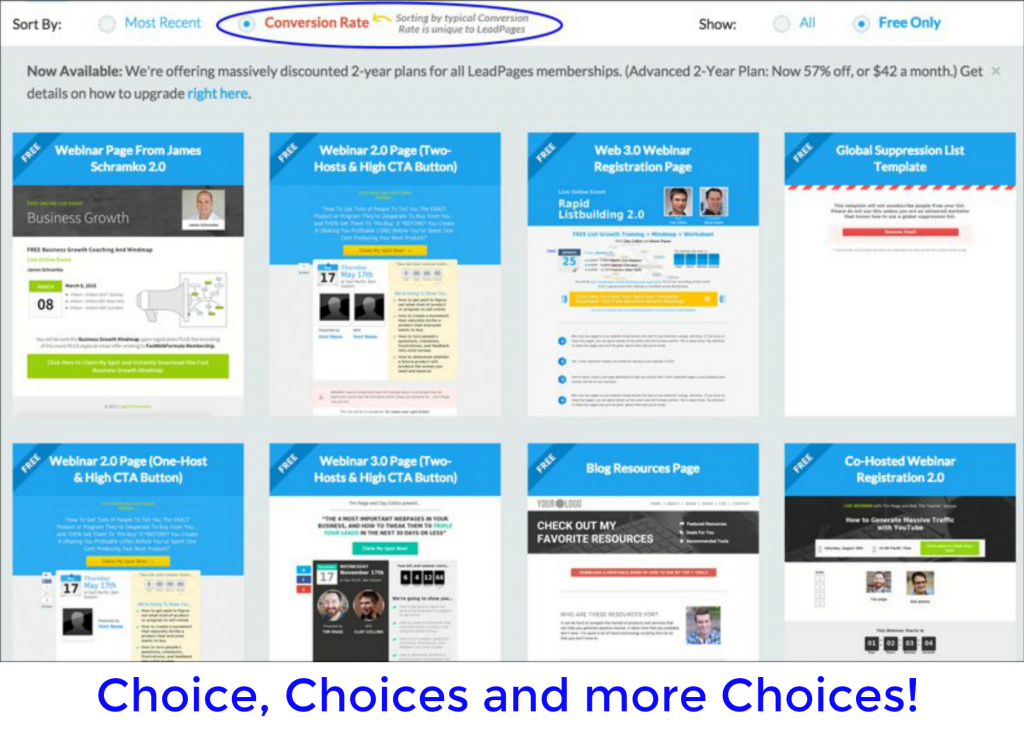 Landing-page creators are inundated with choices.   As of this writing, LeadPages® alone offers well over 100 landing-page templates in their standard library, plus more than 200 others available for purchase in their Marketplace.   And the number climbs every week.   Choice is good.   If you are not sure what a template is, think of it as a set of files that make an individual web page look and function as it does.   When you become a LeadPages customer, you can use LeadPages templates and also customize the template inside their app just by clicking and typing.   No coding necessary.   Short answer to how can you choose one: take advantage of one unique LeadPages feature: the template library's Sort by Conversion Rate function.   Choose one and customize it to fit your requirements.
What does the Sort by Conversion Rate function do?
This feature analyzes how these pages are performing for all LeadPages® users, and then sends the ones with the highest conversion rates to the top. This initial data can be a great way to narrow down your choices.
What is conversion?
Simply stated a "conversion" is the point when a visitor to your page takes an action step.  For example:
Joins your email list
Registers for a webinar
Purchases a product
Signs up for a free consultation
Follows you on social media
Clicks through to your pricing page
. . . or any number of other desired actions.
What is a lead magnet? Is it the same as a "content upgrade," or an "opt-in bribe"?
A lead magnet is anything you give away in exchange for a person's contact information.  (Getting someone's contact information is what converts them from a prospect into a "lead," because you now have a way of staying in touch.)   It's also called an opt-in bribe.
A lead magnet often works like this:
You set up a landing page and offer something of value. A free PDF guide or an instructional video are typical examples of lead magnets.   The resource may mention your products or services, but it is not primarily an advertisement.
People who visit your landing page enter their email address in order to access the lead magnet.
When they submit their email address, they automatically receive an email containing the lead-magnet file.
Now you can contact them with (appropriate, non-overwhelming) future offers and information.
A content upgrade is a lead magnet that builds on the content of the informational page it's offered on, most often a blog post.   Think of it as a bonus feature included with a purchase. It is something that adds to the experience.
People talk about "lead generation," but I want "sales-right-now generation." Can I use landing pages for that?
Absolutely!   You can definitely use landing pages specifically to drive sales.   If you want to set up an e-commerce business, you could direct targeted ad traffic to a pre-sale landing page.   Or you can integrate your landing page directly with a payment service such as PayPal.
Many marketers focus on lead generation because they're looking at the long-term picture.   They want to be the source that customers turn to again and again for high-quality information that complements their products.   They want to build the kind of quality relationships that make email marketing more effective than annoying.
What are you waiting for?
Use this free trial offer and launch your business today. Now is the perfect time to get started on your online business.  The answer to the question:  You've been waiting for this explanation on how easily you can launch an online business.  So what are you waiting for?
---
Author, Victoria Winters
Specializing in sharing knowledge about prosperity, wealth consciousness and universal laws governing all life, Victoria connects with people interested in achieving goals beyond their wildest dreams. She helps you to change your results through her "Mentorship Through Writing" program.   Most noteworthy, she says:   "Many people find it easier to create the peaceful and abundant life they expect through a change of mind."